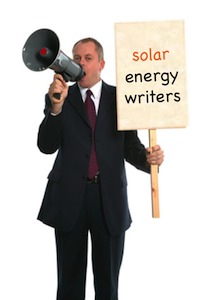 Press releases are perfect for alerting users about upcoming products, services, campaigns, or events.
When combined with your larger marketing strategy, press releases can also help drive a lot of traffic to your site, making it easier to find and convert potential customers.
Although not many marketers actually enjoy writing press releases, they're incredibly useful tools for getting the word out – provided you write your press release for the right audience.
Writing Solar Energy Press Releases for the Right Audience
It's a bit counterintuitive, but the true target of your solar press release isn't necessarily a potential client or customer.
Yes – you should absolutely write any press release with the end user in mind, but quite often, there exist middlemen in between you and your desired audience.  It's important that you factor these middlemen into your writing.
Middleman 1:  Journalists
Reporters and bloggers typically look for new story ideas to rework into standalone articles and posts.  If you want your press release to be turned into a "news story," you need to write it so that it attracts reporters, bloggers, and other key influencers.
If your press release is picked up, the benefits can be enormous:
Google finds two versions of your press release (the original version and the journalist's version).  This can improve your SEO ranking.
You reach a much wider audience since consumers typically read articles and not press releases.  Just ask yourself – when was the last time you read a press release about the new iPod, and when was the last time you read a great article in your favorite newspaper about the next, exciting iPod release?
Your story gains objectivity since you're not the one tooting your own horn – someone else is doing it for you (hopefully
Middleman 2: the Search Engines
Many copywriters and marketers write their press releases with SEO in mind.  They're not as concerned about journalists – their main goal is to secure backlinks and visibility.
Optimizing your press release for the search engines can deliver major benefits like higher rankings and more traffic.
My Approach to Writing Solar Press Releases
Personally, I don't believe you need to write exclusively for either search engines OR journalists.  Done correctly, you can meet all the formatting, style, and content requirements of both middlemen to ensure your press release enjoys optimal exposure.
When writing your solar press release, I focus on:
Ensuring that end users (i.e. potential customers) will connect with the story
Crafting and formatting the content so that it appeals to journalists and other influencers
Optimizing the copy so that it ranks well for the search engines
My job is to ensure that your solar press releases reach the widest and most relevant audience possible.  Let me help you spread the word about an upcoming product or exciting new trend.  Contact me directly to learn more.
For solar press release examples, please click here.