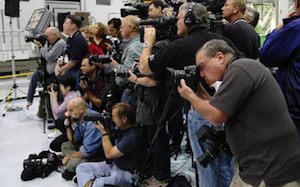 This post continues our previous discussion on where to post your press releases.
Let's look at the last 3 options in our list.
3. Use a Paid Distribution Service
There are a ton of paid services that will syndicate your press release on numerous sites and wires.  Done correctly, your single announcement could reach hundreds of thousands of people – maybe even millions.
The upside to paid services are:
You have a lot of control over where your press release goes.  Segment by geography or industry or publication.
You can include hyperlinks, logos, and images – often as value-added services that carry additional fees.
You receive detailed reporting about clicks, views, and other analytical data.
The main disadvantage of paid services is that they can be expensive.  With one of my favorite services (Marketwire), you can expect to drop several hundred dollars – and that's before including any of the value-added services.  Oh, and there's often a higher fee for press releases that go over a certain word limit.
If you have the budget, I'd definitely explore paid services.  There are hundreds of them, but my personal favorites are (in no particular order):
I recommend using a few of them and do some A/B testing.
For example, you publish the same press release on 2 or more different services.  But be sure to change the contact information and landing pages for each press release.
After a few days, you can determine which service brings you the greatest visibility, clicks, and phone calls.  Don't forget to factor in the cost.  If Service A yields 50% more leads but costs 3 times as much, it's probably not worth using again.
4. Use a Free Distribution Service
Whether you use a paid service or not, you should explore a few free ones.  They're free after all.
Let's look at the advantages of free services:
Um.  They're free.
You're not limited to the number of services you can use.
They're free.
The downsides:
You often lose your hyperlinks.  Some free services let you activate them as a value-added service, but not always.
Reporting and analytics are sometimes iffy.
They often don't have the same prestige or reach of paid services.
Another issue with free services is that there are so many of them.  Even with A/B testing, it will take you some time to find those free services that are worth the energy.
Yes! I know I said that you should use as many as possible, but setting up accounts, formatting, and publishing all take a lot of time.  If you're like most solar marketers, you only have so many hours in the day.
The last downside – free press release services are great at picking up backlinks, but recent updates to Google (Panda & Penguin) could make indiscriminate linking a no-no.  This article argues that you should be more selective about the links you secure.  Whereas paid services allow you to target individual industries and verticals, free services are often one-size-fits-all.
I've used PRLog and generally liked the results.  But this was before the Google Panda update.
If you're still interested in free distribution options, you can always do a Google search of "best free press release sites."  Here are two lists you might wanna check out.  List 1.  List 2.
5. Manually Publish Your Press Release on Partner Sites
There is no shortage of solar, green, and energy sites that regularly accept guest posts and press releases.  Renewable Energy World is one of the most popular ones, but don't limit your search there.
The advantages of manually posting are:
You have complete control over where your press releases go.
You can usually keep your hyperlinks.
Your backlinks are highly relevant to your industry.
You can target and segment to find the perfect sites for your press releases.
You can piggyback on other people's SEO work.  Renewable Energy World, for example, is highly optimized.  If your press release goes there, it will probably rank fairly high in the search engines.
The downside of manual posting is that it's labor intensive.  You have to create logons and passwords for each site.  Then you have to format each release correctly.  This takes time.
I definitely recommend exploring this approach – but only if you have the bandwidth.  Interns can help.  Or you could always use a virtual assistant.
Final Thoughts on Press Release Distribution
Getting your solar press release out there takes time and/or money.  The potential benefits are worth it, but there's really no way to avoid investing resources.
It's important to find the right balance for your situation.  I recommend using a combination of all of the distribution options listed above, but you'll probably have to divert greater resources in one direction or the other.
If you're short on time, paid services are probably your best option.  They're fast and easy.  But you'll have to shell out a few bucks for the convenience.
If you're short on cash, be prepared to roll up your sleeves and explore the many free options out there: journalists, free distribution services, and manual publishing.
This concludes our multi-part series on solar press releases.  I hope to add additional best practices and tips in the coming months, so be sure to check in from time to time or subscribe to my blog via RSS feed.
What's your favorite way to get press releases out there?  Share your experiences down below.
Writing Solar Energy Press Releases, Part 6 – Where (to Send – Pt. 2)