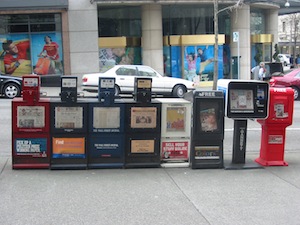 In Part 1 of this post, we explored some of the challenges of finding, sorting, and digesting the tons of solar industry information out there.  Google Alerts was the first technology we examined.  Now let's take a look at my other favorite news discovery tool – Google Reader.
What Is Google Reader and How Do You Find Sources?
Launched in 2005, Google Reader is an online aggregator of RSS feeds (RSS stands for "really simple syndication").  [Sadly, Google Reader has been discontinued.  I now use Feedly]
Google Reader essentially brings all of your favorite news and blog sources into one convenient platform.  This saves you the time of going to the New York Times homepage to read a few stories before moving on to Renewable Energy World, Huffington Post, the Wall Street Journal, etc.
The stories literally come to you.  Think of it as a massive jukebox of pre-selected news and blog sources that you can view from a single screen.
You might be asking yourself – "if the sources are preselected…who actually preselects them?"
The answer is, you do.
After logging into Google Reader (with a Gmail address), you can look for sources in several ways, but I've listed my 3 favorite methods down below:
Go directly to your favorite news or blog sites and look for the orange RSS icon usually located at the top or bottom of most pages.  After clicking on it, that source will be included in the list of sources that Google Reader aggregates for you.  There are even Firefox, Chrome, and Safari browser add-ons to make subscribing even easier.
Click on the red "Subscribe" button in the upper left side of Google Reader's main dashboard.  You can type in whatever keywords you want, and Google will suggest potential sources worth following.  For example, you might want to follow blogs and news sites that cover "solar marketing."  Google Reader will show you a list of sources plus the number of current subscribers to that news feed.
Once you have at least one RSS feed in Google Reader, you can use Feed Settings (below the main search bar) to select "More Like This."  Google Reader will show you a list of similar RSS feeds you might want to subscribe to.
How I Manage My Solar, Copywriting, Marketing, and SEO Feeds
Once you have 2 or more feeds set-up, it's time to begin organizing them into groups.  For my own solar copywriting business, I categorize all of my feeds into 4 separate sections:
Solar Energy & Green Technology
Copywriting & Freelancing
Online Marketing & PR
Search Engine Optimization
(I also have feed categories for personal productivity, logic games, and more).
In each of these categories, I have anywhere from 10-20 of my favorite blogs and newspapers – sources I've collected over years.  And this list continues to grow.
When I wake up every morning, I jump straight into my different RSS feeds.  First, I'll take a look at the hottest headlines in solar.  And then I move down the list, bringing myself up to speed on the latest trends, news, and events in all 4 of my categories.
If some blogger in Albuquerque has discovered a new way to generate clients, I learn about it – without having to visit her site directly.
If a marketing guru in Paris compiles a radical list of dos and don'ts for lead generation, I know immediately.
If a major solar player in China is about to unleash a new technology, it comes on my radar screen right away.
It's so much faster to skim through condensed headlines than visiting each of these 40-80 sites individually.
Which reminds me.  When you write solar headlines for your own articles, blogs, and press releases, keep in mind that many of your readers will skim through them using an RSS feed aggregator.  It's important that your headlines really stick out.  See my blog post about writing effective solar energy headlines.
Google Reader Tips for Monitoring Solar Information
Here are some easy tips to help you get the most out of Google Reader.
1.  Always Check Sources before Adding Them
Before you add a new source, make sure that the other stories from this newspaper or blog are relevant.
Sometimes when I search for a new RSS feed, Google Reader will show me a really interesting solar energy story that was published in a major, non-solar publication.  Although the story itself is interesting, I don't want to subscribe to all of the other stories that have nothing to do with solar energy.
2.  Safety in Numbers
When Google Reader shows you a list of potential sources worth subscribing to, check the number of subscribers (next to each source).  In general, the more subscribers, the more useful that source is.  Although you can still find hidden gems in the less popular RSS feeds.
3.  Google Reader Has Gmail Functionality
Although there are a ton of RSS aggregators out there, I prefer Google Reader because it incorporates a lot of Gmail-like features, such as folders (labeling), starring, tagging, keyboard shortcuts, and search.
These are extremely useful for organizing and navigating through your feeds.
4.  Use Google Reader to Collect Google Alerts
In Part 1, we talked about Google Alerts and how you can send notifications to your inbox.  But you can also set them up to come to Google Reader as well.  This is perfect for people who like to keep their email inboxes as clean as possible.
Google Reader – Guaranteed to Bring Order to Your Solar Marketing Efforts
I love Google Reader.  Love it.  I have some minor grievances (like the fact that it doesn't filter out duplicate stories published on multiple sources).  But overall, I think it's a great piece of technology.  And it's 100% free.
Back in the "time before" – the days before RSS feeds – I spent hours visiting site after site.  It was laborious and tedious.  Now with Google Reader, I can skim the latest headlines and zero in on the hottest topics with ease.
We're all different, so maybe I shouldn't make "guarantees."  But I'm fairly confident that Google Reader (or the RSS aggregator of your choice) will greatly enhance your productivity – especially if you complement the technology with Google Alerts.
Staying Abreast of the Solar Industry as a Marketer or Copywriter, Pt. 2