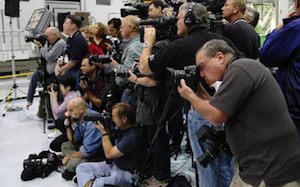 Now that we've explained the What, Why, and Who(m) of writing solar press releases, we're ready to jump into the actual How of the process (in 2 parts).
There was a time when you had to adhere to very strict formatting rules or else journalists would disregard your press release entirely.  Thanks to online distribution services, the formatting rules are not nearly as strict.  But it's still a good idea to follow them for several reasons:
Formatting your press release properly will increase your chances of having the story picked up by a reporter.
Many online distribution services still require that you stick with the older format.
The original guidelines make it a little easier to organize your thoughts and lay out your press release logically.
Except for the time that it takes to learn the following structure, there really is no downside to formatting your solar press releases properly.  So you might as well put in the effort.
Let's begin.
Solar Press Release Headline
Your headline (or title) should be engaging.  No big surprises there since titles should always follow this rule regardless of the copywriting project.
But there are additional points to consider when writing press releases.
You should state your announcement in as few words as possible.  Some distribution services even have a character limit.  I recommend 100 characters or fewer just to be safe.
Convention dictates that you write your headline in the title case (i.e. Every Word Is Capitalized).  Different style guides disagree on whether you should capitalize conjunctions, articles, and prepositions that don't appear at the beginning of the headline.  I don't think it matters much.
If writing for journalists – avoid marketing fluff or hype.  Snappy and engaging are okay, but steer clear of sensationalizing your story (too much).  It's better to stick with the facts.
Always write in the 3rd person (ex: he, she, it, they) and never write in the 1st person (ex: we, I).  This rule applies throughout the press release.  Unless you're directly quoting someone, stick with the 3rd person.
Later on, we'll actually go over some examples.  But for now, just digest the basic rules.
Solar Press Release Subheading
This is a leftover convention from the pre-Internet days, but most press releases include a subheading.  Usually a sentence long, your subheading simply brings out the story a little bit more.  Think of it as a movie tagline underneath the main title.
So if your press release headline is:
Acme Solar Releases New PV Panel with Higher Efficiency Rates
Your subheading might read:
Acme Solar has just finished testing a PV panel that achieves 20% efficiency under laboratory conditions.
The subheading is a great place to throw in more keywords – but again – only if doing so doesn't compromise readability.
Solar Press Release Lead
The lead is the "introduction" of your press release.  It usually includes:
Today's date
The city (and state or country)
The name of the distribution service (if applicable)
Dash "–"
The opening paragraph of the press release
This opening paragraph is essentially an executive summary of the press release.  Yes, that's right.  You have a title (which is a summary), then the subheading (which is a longer summary) and then the lead (which is an even longer summary).
It seems a bit silly nowadays.  But you have to remember that back when press releases were exclusively meant for reporters, multiple summaries made it easier to quickly read through piles of potential story ideas.
In the pre-Internet days, the lead usually featured the who, what, when, where, and why of the press release – the most essential facts.  These days, you can bend the rules a bit and launch into a narrative.  If the story is compelling enough, people will continue reading and discover the who, what, when… later on.
Solar Press Release Body
And now after several summaries, you're ready to jump into the meat of the press release – the actual story.
The are no firm rules here – just simple guidelines:
Quotes are always good – especially if they come from 3rd party sources (i.e. you're not quoting someone directly connected to your company).
White space is important.  Keep your paragraphs short and insert spaces in between every paragraph.
Keep the copy short (i.e. less than 1 page).  Some distribution services have strict word limits.  Others have tiered pricing based on the number of words.  I try to keep my press releases under 500 words total.
Weave in keywords whenever appropriate.  However, it's best to focus on only 2-4 keywords at a time for any given press release.
Use hyperlinks whenever appropriate, but don't overdo it.  On average, one hyperlink per 100 words is ok.  Keep in mind that many distribution services automatically disable hyperlinks, so be sure to spell out your most important hyperlink at least once towards the end.  By "spell out" I mean http://solarenergywriters.com instead of Solar Energy Writers.
Insert a call to action (CTA) towards the end.  If you've just announced a new service, product, or event, you probably want people to contact you for more information.  Make this request explicit.  Just remember to write the CTA in the 3rd person.  So instead of saying "contact us for more info," you say "contact Acme Solar for more information."
There are 3 optional (but highly recommended) items to include at the end of your press release.
Insert a centered "###" at the end of the content to indicate that the press release is finished.  It's basically a "THE END" in journalist terms.
Include a very brief description of your company.  Usually 2-3 sentences long, this paragraph allows you to give a short overview of your solar firm in case the reader has never heard of you.  This goes below the ### and often has a bolded heading – "About Name of Your Company."
Add media contact information at the very bottom – usually name, title, email address, phone number, and company URL.  This is in case reporters want to get in touch with you for additional information.  If you're okay with removing reporters from the equation, you can insert the contact info for your sales team, customer service, or whomever.
And voila!  You now have the basic formatting down for a solar press release.  But it's not award-winning just yet.  The next section deals with turning an idea into an actual story, so stay tuned.
In the meantime, share your thoughts down below.  Do you have any other guidelines you'd add to this list?
Writing Solar Energy Press Releases, Part 3 – the How (Structure)